The day after Masonic Con 2019
If you are from out of town or just want to spend more quality time with Brothers from out of state, we have arranged a trip to historic Concord, Massachusetts. We hope to leave Attleboro by 9:00 A.M. and head north about 45 minutes to Concord following visiting some of the sites below, we will head to Everett, Massachusetts (only 7 miles from Logan International Airport) and enjoy so of the best libations you will find in Massachusetts. The tour is voluntary, you are free to join us for part of it or all of it.
First stop will be Walden Pond where Henry David Thoreau spent two years, two months, and two days. This is where he wrote his first book and inspired several future writings of his.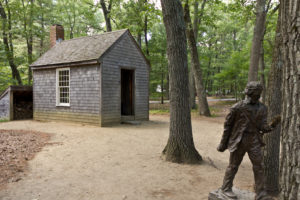 Henry David Thoreau's Walden Pond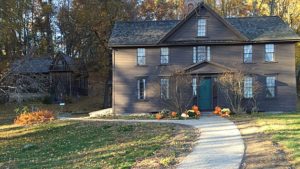 Louisa May Alcott's Orchard House
Next, we take a quick stop by Louisa May Alcott's Orchard House. This is where she wrote Little Women! They won't be open but it is a historic Gem to see from the outside.
Our next stop brings us to the Sleepy Hollow Cemetery where the Author's Ridge is located. At this site Ralph Waldo Emerson, Henry David Thoreau, Nathaniel Hawthorne, and Louisa May Alcott are all laid to rest. This site along with Walden Pond are truly inspirational.
Author's Ridge located in the Sleepy Hollow Cemetery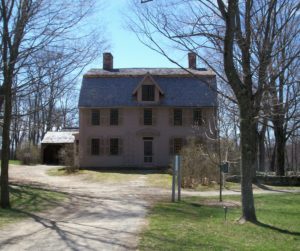 The Old Manse
The Old Manse was built in 1770 for the Rev. William Emerson, grandfather of transcendentalist writer and lecturer Ralph Waldo Emerson. The elder Rev. Emerson was the town minister in Concord, chaplain to the Provincial Congress when it met at Concord in October 1774 and later a chaplain to the Continental Army. Emerson observed the fight at the North Bridge, a part of the Concord Fight, from his farm fields while his wife and children witnessed the fight from the upstairs windows of their house.
Later the house was rented by Nathaniel Hawthorne with his newly weeded bride Sophia Peabody. Peabody had previously visited Concord and met Ralph Waldo Emerson while working on a bas-relief portrait medallion of his brother Charles Emerson, who had died in 1836. She praised the town to Hawthorne, who responded, "Would that we could build our cottage this very now amid the scenes. My heart thirsts and languishes to be there".
Prior to their arrival at the Manse, Henry David Thoreau created a vegetable garden for the couple.
What a piece of History!
Finally, we walk across the Old North Bridge where the British Regulars were repelled from capturing the guns and ammo in Concord.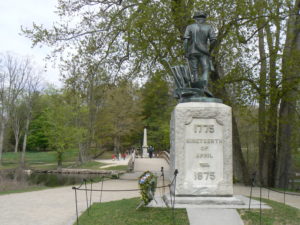 The Old North Bridge
This portion of the tour may seem like a lot but it is only 15 minutes of driving from Walden Pond our first stop. From here we are heading to Everett, Massachusetts to a popular street that houses 2 breweries and a distillery. There are typically a few gourmet food trucks there to meet any hunger needs that may come up. 
While seeing the many sites and enjoying the several craft beverages, what we can't post a picture of here is the fraternal bonding that will occur and deep discussion about our beloved fraternity.
Again, all are welcome to join us.