Brother George Washington
February 22nd 1732 – February 11th 1731
Member of:
Fredericksburg Lodge #4, Fredericksburg, Virginia.
First President of the United States, the Commander-in-Chief of the Continental Army during the American Revolutionary War, and one of the Founding Fathers of the United States. He presided over the convention that drafted the current United States Constitution and during his lifetime was called the "father of his country"
George Washington Masonic Memorial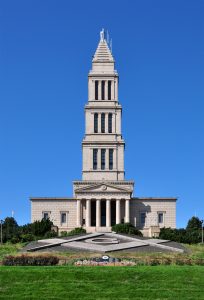 George Washington wrote letters in which he said he was happy to be a Mason, and, in 1791, described Masonry as being "founded in justice and benevolence…the grand object of Masonry is to promote the happiness of the human race."
Asked more specifically about Freemasonry in 1798, Washington wrote, "…So far as I am acquainted with the principles and Doctrines of Free Masonry, I conceive them to be founded on benevolence and to be exercised for the good of mankind. If it has been a Cloak to promote improper or nefarious objects, it is a melancholy  proof that in unworthy hands, the best institutions may be made use of to promote the worst designs."
Interestingly, brother George Washington took his oath of office as the first President of the United States with his hand upon a Bible from St. John's Lodge #1,of the Ancient York Masons.  Since then, George Washington's Inaugural Bible has been used used for the inaugurations of Warren G. Harding, Dwight D. Eisenhower, Jimmy Carter, and George H. W. Bush.