Brother Henry Knox
July 25th 1750 – October 25th 1806
He became a clerk in a Boston bookstore, and eventually opened one himself. He was an avid reader, fond of history, but his main interest later settled on artillery.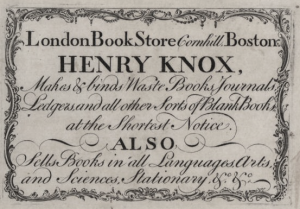 Military officer of the Continental Army and later the United States Army, who also served as the first United States Secretary of War from 1789 to 1794.
Knox is most notably remembered for what came to be known as the noble train of artillery, hauling by ox-drawn sled 60 tons of cannon and other armaments across some 300 miles of ice-covered rivers and snow-draped Berkshire Mountains to the Boston siege camps
He retired to what is now Thomaston, Maine, in 1795, where he oversaw the rise of a business empire built on borrowed money. He died in 1806 from an infection received after swallowing a chicken bone, leaving an estate that was bankrupt.