Brother Honus Wagner
February 24th 1874 – December 6th 1955
Member of:
Centennial Lodge #544 Carnegie, Pennsylvania
American baseball shortstop who played 21 seasons in Major League Baseball from 1897 to 1917, almost entirely for the Pittsburgh Pirates. Wagner won eight batting titles, tied for the most in National League history with Tony Gwynn. He also led the league in slugging six times, and in stolen bases five times. Wagner was nicknamed "The Flying Dutchman" due to his superb speed and German heritage.
In 1936, Brother Wagner was one of the original 6 players to be inducted into the Baseball Hall of Fame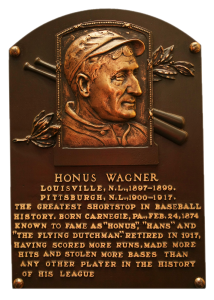 When the American Tobacco Company began its T206 cigarette card campaign, Brother Wagner refused to allow production of his baseball card to continue, because he did not want children to buy cigarettes to get his card. Only 50-200 cards were ever made making it one of the most valuable baseball cards ever.