Brother Mordecai Brown
October 19th 1876 – February 14th 1948
Member of:
Edward Dobbins Lodge #164, Lawrenceville, Illinois
American Major League Baseball pitcher and manager during the first two decades of the 20th century (known as the "dead-ball era"). Due to a farm-machinery accident in his youth, Brown lost parts of two fingers on his right hand, and in the process gained a colorful nickname. He turned this handicap into an advantage by learning how to grip a baseball in a way that resulted in an exceptional curveball, which broke radically before reaching the plate. With this technique he became one of the elite pitchers of his era.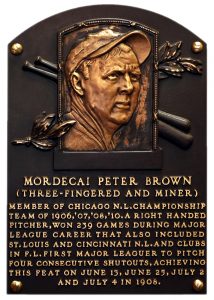 Brown was elected to the Baseball Hall of Fame in 1949.