Brother Sir Winston Churchill
November 30th 1874 – January 24th 1965
Member of:
Studholme Lodge #1591, London, England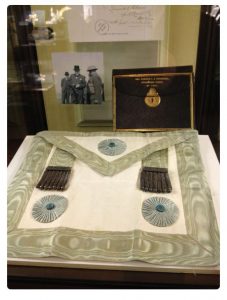 Winston Churchill's Masonic Apron
British statesman who was the Prime Minister of the United Kingdom from 1940 to 1945 and again from 1951 to 1955. Churchill was also an officer in the British Army, a non-academic historian, a writer (as Winston S. Churchill), and an artist. He won the Nobel Prize in Literature, and was the first person to be made an honorary citizen of the United States.